One of the most exciting parts of getting a new degu or two is picking the perfect name. It can be challenging to come up with name ideas for new pets, but we've put together a great list of names for Degus. We have names for girls, boys, and even degu pairs. Check out our suggestions, or read the section at the end of the article with ideas on how to brainstorm your own names.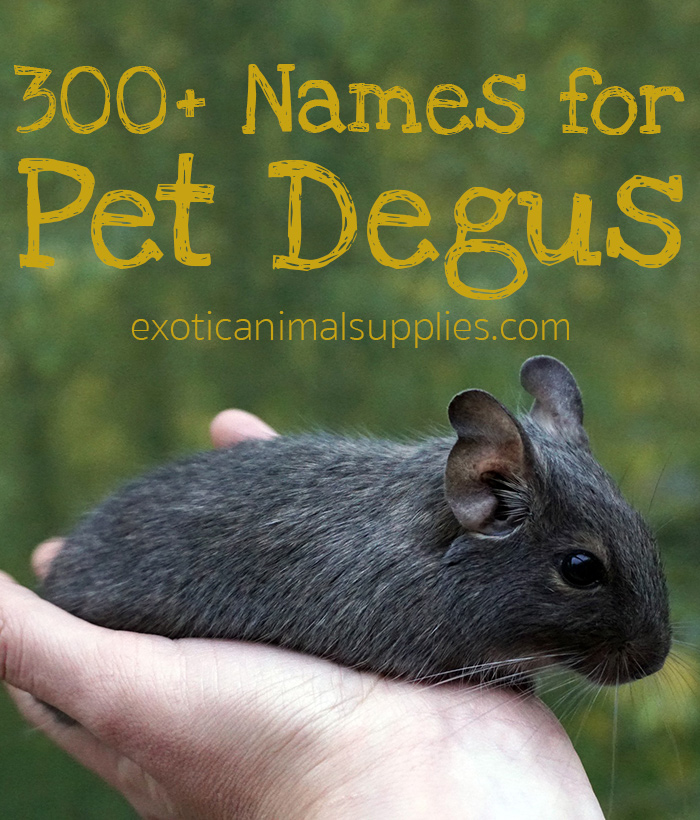 Female Names for Degus
If you have a new girl degu (or two), check out this list of names. From cute to traditional, there's plenty of ideas to choose from.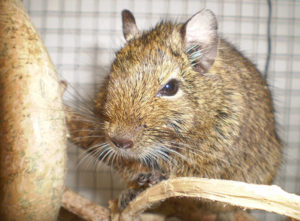 Abby
Amber
Angel
Annie
Ashley
Audrey
Baby
Bailey
Beebee
Belle
Billie
Blossom
Bubbles
Bumble Bee
Bunny
Buttercup
Candy
Chloe
Cleo/Cleopatra
Clover
Cookie
Daisy
Dizzy
Dolly
Doris
Dorothy
Dot
Eve
Fluffy
Girlie
Gracie
Hannah
Honey
Hope
Jade
Jasmine
Jewel
Jill
Joy
Kate
Kendra
Lady
Lemon
Lily
Lola
Maple
Marigold
Marley
Marmalade
Missy
Misty
Molly
Muffin
Nadia
Nellie/Nelly
Nessie
Nikki
Norma
Nutmeg
Ocean
Olive
Pansy
Patty
Peaches
Pearl
Pebbles
Penny
Petal
Princess
Pumkin
Rain
Raisin
Raven
Reba
Robyn
Rosa
Rose
Rosie
Roxanne
Sable
Sabrina
Sadie
Sadie
Saffron
Sally
Sandy
Saphire
Serenity
Seven
Shelby
Sherri
Sienna
Sissy
Skittles
Sky
Snowflake
Sprinkles
Starburst
Starry
Sunflower
Tabbie
Taffy
Tinkerbell
Tootsie
Trixie
Ursula
Velvet
Violet
Zelda
Zoey
Male Degu Names
If you're looking for boy names for degus, you'll find one on this list. These are cute, funny, and traditional names for degus.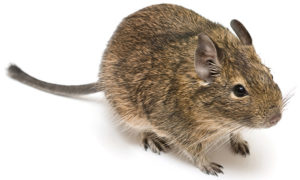 Ace
Alex
Andy
Arthur
Atlas
Badger
Bandit
Bear
Bob/Bobby
Bolt
Boots
Buddy
Burrito
Casper
Charlie
Chip
Chopsticks
Colby
Devil
Diego
Dill
Domino
Duke
Duster
Dustin
Felix
Fred
George
Gizmo
Harry
Henry
Hercules
Jasper
Junior
Lancelot
Mark
Martin
Max
Merlin
Micro
Milo
Misfit
Moe
Moose
Mortimer
Mud
Nacho
Napoleon
Nate
Nelson
Nemo
Neo
Neptune
Nestor
Nickel
Ninja
Norman
Oliver
Oscar
Panther
Paul
Peanut
Pepperoni
Pewter
Pierre
Pikachu
Pringle
Radar
Rascal
Ray
Rex
Robbie
Robin
Rocket
Rodeo
Roo
Runt
Rusty
Rusty
Safari
Salem
Sausage
Scar
Scooby Doo
Scrappy
Scratch
Shredder
Smudge
Sneakers
Snickerdoodle
Snickers
Spoke
Squeaker
Taco
Tarzan
Taz
Teddy
Thor
Thumper
Tiger
Titan
Tom
Tony
Vader
Valentine
Vince
Zach
Zombie
Zoomer
Zorro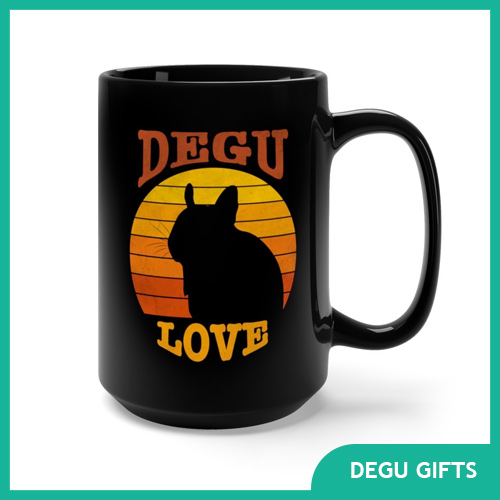 Unisex Names for Degus
These names work great for male or female degus.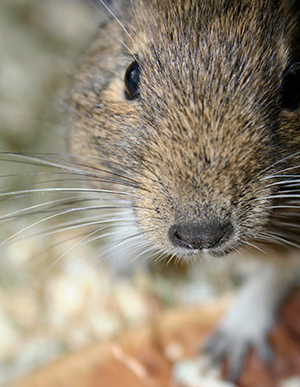 Basil
Boo
Brownie
Button
Cheddar
Cilantro
Cinnabon
Cinnamon
Clouds
Cocoa
Cuddles
Cumin
Curly
Ducky
Dusty
Feisty
Fizzy
Fudge
Happy
Hopper
Lucky
Mint
Mocha
Nebula
Needle
Nibbles
Nipper
Noodle
Nosy
Nugget
Oatmeal
Oreo
Pancake
Panda
Parsley
Patches
Pepper
Pickle
Piper
Raisin
Rebel
Ribbon
Rumi
Silver
Spaghetti
Squeak/Squeakers
Squirt
Tango
Tequila
Twinkie
Twinkles
Twister
Yoga
Zipper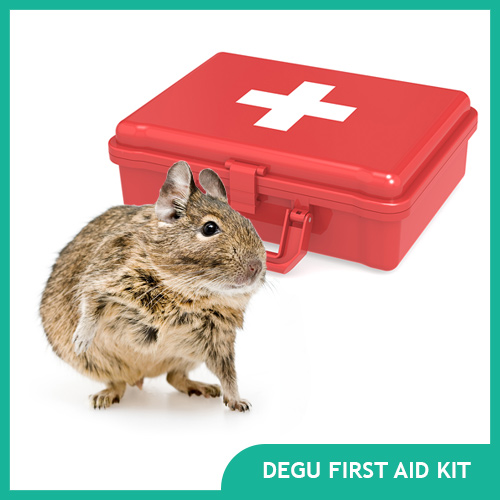 Degu Names for Pairs
Degus do best in groups or pairs, so it makes sense that you would get a pair of goos at the same time. Check out these names for degu pairs.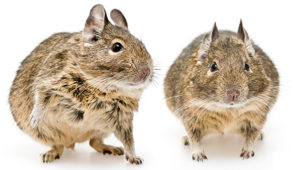 Beavis & Butthead
Bert & Ernie
Bonnie & Clyde
Bread & Butter
Chip & Dale
Coco & Pops
Cookies & Cream
Dr. Jekyll & Mr. Hyde
Itchy & Scratchy
Jack & Coke
Jack & Jill
Kanga & Roo
Luke & Leia
Micky & Minnie
Peanut Butter & Jelly
Ping & Pong
Rice & Beans
Riff & Raff
Romeo & Juliet
Salt & Pepper
Super & Nova
Thelma & Louise
Tom & Jerry
Tweedle Dee & Tweedle Dum
Ying & Yang
Zig & Zag
Zip & Zap
How to Pick a Name for Your Degu
If you want to find the perfect name for your new degu (or goos), there are plenty of ways to do it.
Get together everyone in your family who is going to help pick out a name for your new pet. Give everyone a piece of paper and have them list all of their name ideas.
Use the following exercises to generate degu name ideas:
Appearance – Look at your degu and think of names based on their appearance. "Cinnamon" or "fudge" are fun names, as are "Dusty" or "Sandy."
Personality – Once you've spent a little time with your new goo, you'll get a sense of their personality. That may inspire a few name ideas. Any energetic degu could be called "Zippy" or "Flash." If your goo seems to have an attitude you can call them "Sassy." A shy degu may have a demure name like "Daisy" or "Shadow."
Favorite Characters – Think of your favorite characters from movies, tv shows, video games, or books. Add those names to your lists.
Once everyone has their lists, make everyone narrow them down to one or two name possibilities. If the whole family is picking the name, hold a vote and pick the most popular name for your new degu. Otherwise, just pick the one you like best.
---
Getting your home ready for your new pet? Learn about a healthy degu diet. Don't forget to put together a degu first aid kit.