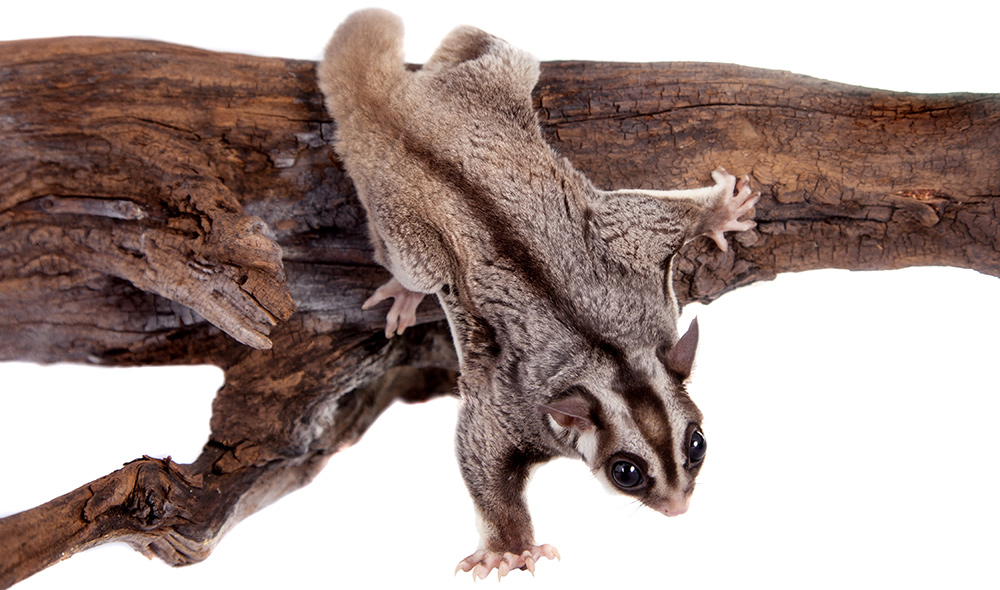 So you've added a new pet sugar glider to your family. There's tons of fun and cute times ahead, but first you need the perfect name for your new pocket pet. If you're stumped for good ideas, check out our list of sugar glider names. We even have some brainstorming activities you can do to pick the right name for your cuddly sugar glider.
Best Sugar Glider Names
We've divided the sugar glider names into lists for female names, male names, and then unisex names that work for boy or girl sugar gliders.
Female Sugar Glider Names
These are adorable and fun names for girl sugar gliders.
Abby
Amber
Angel
Angelica
Anna
Anya
Beauty
Bella
Beth
Blossom
Bonnie
Bubbles
Buffy
Buttercup
Cassie
Charlotte
Cher
Crystal
Cupcake
Daisy
Dory
Dot
Ebony
Elise
Ellie
Flower
Frannie
Gabby
Gidget
Gracie
Hazel
Holly
Icicle
Isabel
Jasmine
Jewel
Kiki
Kiwi
Ladybug
Lilo
Lizzy
Luna
Mama
Melanie
Minnie
Natalie
Nibbles
Olive
Olivia
Patsy
Petunia
Polly
Queenie
Ribbon
Riley
Rose
Sandy
Sassy
Star
Sugar
Sweetie
Tabby
Tanya
Tinkerbell
Ursula
Vanessa
Wanda
Widget
Willow
Zoe
---
Male Sugar Glider Names
Fun and creative name ideas for boy sugar gliders.
Ace
Alvin
Andromeda
Angus
Bandit
Bandit
Barney
Beatle
Brutus
Bud
Bumble
Burger
Carl
Charger
Chip
Cricket
Cupid
Daddy
Dale
Dodger
Ed
Egor
Fido
Franky
Fred
Frisbee
Furby
George
Gizmo
Ham
Henry
Hercules
Hugh
Icarus
Isaac
Jack
Jazz
Jerry
Joey
King
Licorice
Merlin
Mickey
Mike
Nemo
Neo
Ollie
Oscar
Paul
Peepers
Pete
Rocket
Rodney
Roo
Sam
Shredder
Simon
Spike
Stitch
Theodore
Toby
Waldo
Wally
Walter
Webster
Zeus
Zipper
---
Unisex Sugar Glider Name Ideas
These names work well for boy or girl sugar gliders.
Almond
Apple
Bambi
Bashful
Cinnamon
Cloud
Cocoa
Cracker
Critter
Devil
Egg
Flash
Freckles
Frosty
Giggles
Hazelnut
Jellybean
Lemon
Lightning
Lucky
Mango
Nano
Peanut
Pepper
Rain
Spot
Storm
Telly
Waffles
Whiskers
Whisper
Wiggles
Yellow
Zoomer
---
How to Pick a Name for Your Pet Sugar Glider
Coming up with a name for a new pet can be tricky, but by doing a few brainstorming activities you can come up with the perfect name idea in no time. Gather around your family and get a piece of paper and a pen to start brainstorming.
List all the ideas you have, no matter how silly they seem. Uses these prompts to come up with new ideas:
Your Sugar Glider's Personality – Once you've spent some time with your new pet, you'll get a sense of their personality. Think if there are any names that can be inspired by their behavior. If they like to run around, a name like Zoomer or Zip would suit them. If they're shy or quiet, something like Snowflake or Bashful would fit.
Your Sugar Glider's Appearance – Look at your new pet and see if that inspires any names. Those big beautiful eyes might make you think of Peepers. Their gliding "wings" may remind you of birds like Robin or Sparrow.
Favorites from Media – Think of your favorite books, movies, comics, TV shows, or video games. List out the name of any characters you love or that remind you of your new pet sugar glider.
Names from Nature – If you like the idea of a cute name for your sugar glider, look to nature. Flowers like Daisy or Rose can be a fun name. Weather words like Cloud or Storm are also fun. You can even name your sugar glider after other animals like Bear or Frog.
Add any names you think of to your list. Once you have enough names, cross out your least favorite names until your left with one name. That's the name for your new sugar glider!
If your family is deciding on a name together, have everyone nominate one name from their list. Then have the family vote. Whichever name gets the most votes is the best name for your pet.
Save on Pinterest