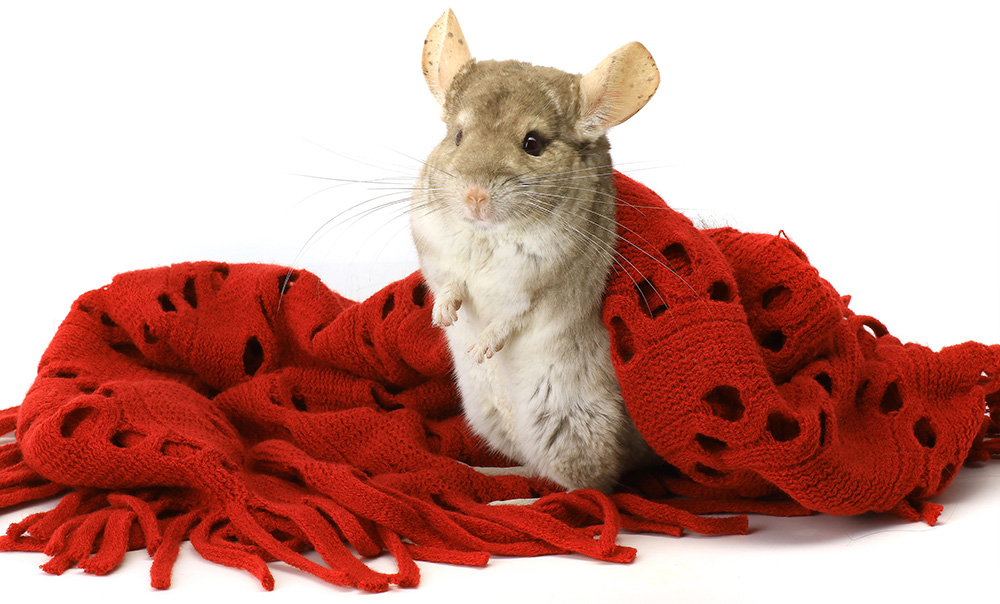 Exercise during playtime is one of the most important times in a chinchilla's day. Chinchillas must be provided with exercise time every day for their health and happiness, this is mandatory for proper chinchilla care. It's especially important to provide exercise time outside of their cage if your chinchilla has a smaller cage. One of the best ways to provide this exercise is to have a dedicated space in your home that's chin-proof where your chinchilla can run, jump, and play with toys. One of the easiest ways to create this space is with chinchilla playpens.
Chinchilla exercise pens are also a great place to keep your pet while you're cleaning their cage, especially during the monthly deep clean. If you have enough space to get a pen big enough for you to sit in, exercise time also becomes bonding time with your pet chinchilla.
When shopping for an exercise pen for your pet chinchilla, you'll want to keep a few factors in mind. First, you should look for something made out of metal or wire so your chin won't be able to chew through it. A lot of playpens meant for dogs work perfectly as chinchilla exercise pens. You want to make sure the height of the pen walls is at least 2 feet (24″). The size of the pen itself will depend on the amount of space you have to work with.
Note: chinchillas should always be monitored during playtime or exercise outside of their cage. This is because they can often be little escape artists and you want them to stay in their exercise area away from dangers like wires and appliances. Even if you have a chin safe play area, they should not be left unsupervised for long periods of time. You should consider chinchilla playpens that are large enough for you to sit inside with them during exercise time.
Chinchilla Playpens
Marshall Pet Products Small Pet Playpen
Made specifically for small pets like chinchillas, rabbits, and ferrets, this playpen makes the perfect enclosure for chinchilla playtime. The panels are extra tall to help prevent your chin from jumping over the walls on this chinchilla enclosure. The playpen can be used inside or outside (if you chinchilla isn't stress by the outdoors).
Marshall also makes playpen mats to help protect your floor and carpet during chinchilla exercise time. The mat can also be used as a "lid" to keep extra jumpy chins inside. Easy to assemble, no tools required.
Play Area: 12 square feet
Panel Size: 18″ W x 29″ H, 1″ bar spacing
Number of Panels: 11
---
Amazon Basics Pet Foldable Chinchilla Playpens
If you need a playpen that's super portable, this enclosure from Amazon Basics may work for you. This pen is collapsible and folds up, making it easy to take outside or pack in the car if you're traveling. It also comes pre-assembled so you can just set it up and go.
This pen will give enough space for your chinchilla to exercise and play. It also features a door that you can open to easily walk in and out of the enclosure. The panels are made of iron wire, so you'll never have to worry about your chin chewing through them. Bigger sizes are available if you want more space
Play Area: Over 16 square feet
Panel Size: Each panel 24″W x 24″L; Gap 1.5″W x 5.5″L
Number of Panels: 8 panels
---
TMS Large Chinchilla Exercise Pens
If you need a lot more space for your chinchilla's playtime, this playen from TMS is a great option. It comes with double the panels of most pens and the panels are removable so you can customize the size or build multiple pens.
The panels are made with steel wire, making them chew proof for your chin. The pen comes with two door panels to easily step in and out. The shape is easily adjustable to fit whatever space you want to use for your chinchilla's exercise time.
Play Area: Over 66 square feet
Panel Size: 31″W x 24″H
Number of Panels: 16
---
ABO Gear Happy Habitat Tent for Pets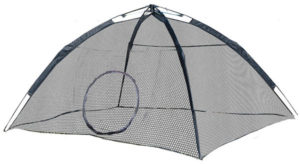 If your chinchilla is a super crafty escape artist or jumps super high, you may need more protection than a normal enclosure can provide. This tent-looking exclosure is meant for cats but can easily be used for chinchillas. The zipper door make it easy to get your chinchillas in and keep them in.
Since the tent is made of mesh walls and floors, a chinchilla would be able to chew through it. Make sure to keep an eye on them and provide them lots of toys and wood to chew on to keep them gnawing a hole in it. This enclosure folds up into a convenient carry bag that is perfect for storage or transport.
Play Area: 30 square feet
Dimensions: 74 x 63 x 36 inches
---
ESK Collection Small Pet Playpen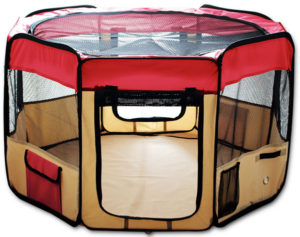 This is another option if you're considering fully enclosed chinchilla playpens. With 8 panels, this pen is designed to keep your chinchilla fully enclosed while they play and jump. It's made from waterproof cloth and breathable mesh, so it has enough ventilation to keep your chinchilla cool. You have to keep an eye on your chin though so they do not try to chew their way out.
The zipper door makes it easy to get in and close the pen completely so your chinchilla does not try to escape. The outside also features storage compartments to keep extra toys or treats. It's quick to set up and fold down in just a matter of seconds. This pen comes with a travel tote for easy storage and portability.
Play Area: Over 19 square feet
Dimensions: 48″ (Diameter) x 25″ (Height)
Available Colors: blue, pink, red, black
---
Keep your chinchilla entertained during playtime with these chinchilla toys and chews or make them their own chinchilla maze.