There's tons of excitement around getting a new pet. You get to buy tons of cool supplies, a new cage, and toys for your new furry friend. You also get to live that magical moment of meeting your pet for this first time. This is when many pet owners pick the perfect name for their little buddy. But for some, it can be tricky to come up with the right one. If you're looking for ideas for pet rat names, you're in luck. We have over 200 hundred name ideas, divided between boy and girl names, unisex names, and even clever names for rat pairs.
Check out our lists and if none of these names inspire you, we have some ideas on how to brainstorm the perfect name for your pet rat. Check them out: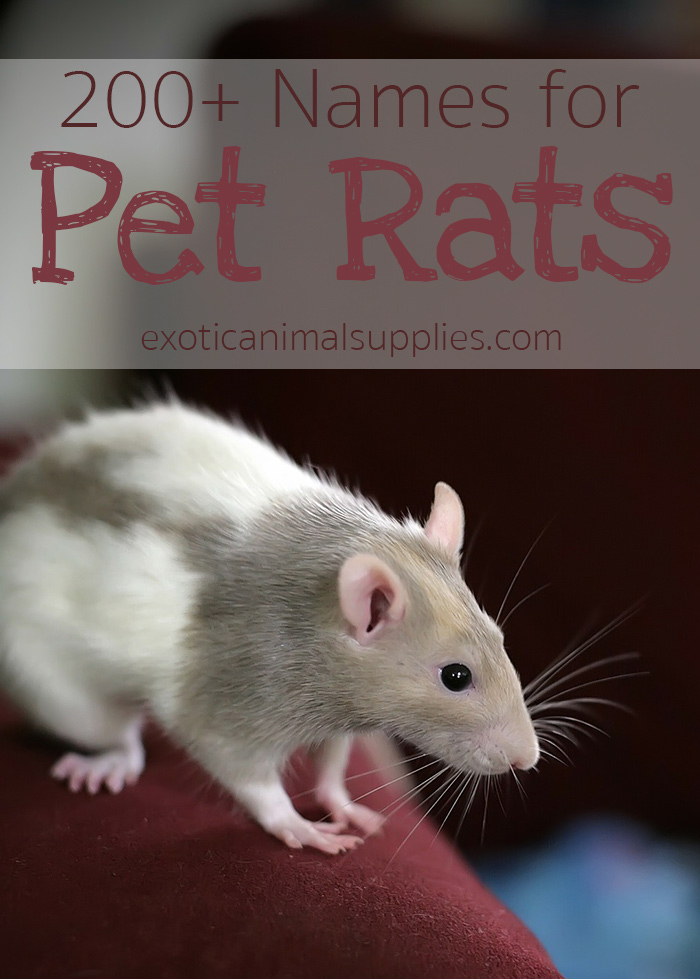 Name Ideas for Pet Rats
Male Pet Rat Names
Give your little boy one of these playful or creatives rat names.
Ace
Alex/Alexander
Alf
Bagel
Bart
Beans
Bear
Beaver
Ben
Blink
Blue
Buck
Casper
Champ
Cheese
Chip
Chubby
Corky
Cornelius
Crumbs
Dino
Emerald
Ernie
Finn
Flick
Floyd
Frank
Fred
Freddie
Geronimo
Ghost
Glen
Hank
Hannibal
Harold
Hercules
Homer
Houdini
Jasper
Jet
Joe
Lex
Linus
Looper
Martin
Monty
Nacho
Nicodemus
Nigel Ratburn
Ninja
Nutter
Olie
Oreo
Ozzy
Pinky
Pippin
Pistol
Prince
Ralph
Ratticus Finch
Ratty
Remy
Rizzo
Robby
Rocky
Roland
Ronnie
Scabbers
Scamper
Snake
Spark
Speedy
Splinter
Templeton
Theo
Thor
Tom
Twitch
Zing
Zoro
Rat Names for Females
Here's a list of fun, cute, and original names for girl rats.
Annie
April
Astrid
Aurora
Autumn
Basil
Becky
Bella
Betty
Bianca
Bitsy
Bubble
Caramel
Clover
Cookie
Crystal
Cupcake
Cutie
Daisy
Debbie
Donna
Dottie
Emily
Emmy/Emmie
Fancy
Fiona
Ginny
Gwen
Harriet
Holly
Honey
Hope
Ivy
Josie
Joy
Juniper
Kali
Katy
Kelly
Kiwi
Lady
Lilac
Lisa
Love
Maggie
Margarita
Marigold
Marmalade
Mia
Miley
Millie/Milly
Minnie
Molly
Nelly
Nessie
Pandora
Pansy
Pea
Pearl
Peggy
Penny
Phobe
Pixie
Poppy
Princess
Queen/Queenie
Rebecca
Rebel
River
Rosemary
Rosie
Rosie
Ruby
Sky
Storm
Strawberry
Sweetie
Tabby
Tinkerbell
Trixie
Willow
Xena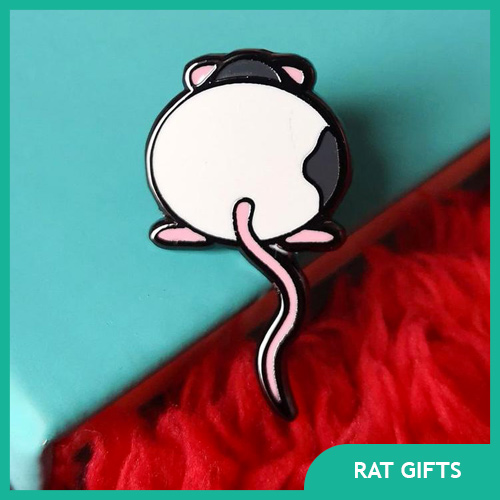 Unisex Names for Rats
These rat names work great for male or female rats.
Almond
Biscuit
Cheerio
Corky
Echo
Link
Lucky
Maple
Marble
Marshmallow
Muffin
Nibbles
Noodles
Oats
Parsley
Patch
Peanut
Pickle
Pie
Popcorn
Pretzel
Pumpkin
Ravioli
Scout
Squeak
Squeakers
Zipper
Names for Rat Pairs
If you have a pair of rats, you can give them one of these clever pairs of names.
Adam & Eve
Batman & Robin
Ben & Jerry
Bert & Ernie
Betty & Veronica
Bonnie & Clyde
Buttercup & Blossom
Calvin & Hobbes
Cherry & Blossom
Chip & Dale
Cinnamon & Sugar
Cookies & Cream
Fred & Ginger
Itchy & Scratchy
Jekyll & Hyde
Pitter & Patter
Romeo & Juliet
Salt & Pepper
Tom & Jerry
How to Pick the Perfect Pet Rat Name
So you've gone through the list of names, maybe even made a list of your own, but you're still stumped. Which name is perfect for your pet rat? We have some tips and ideas of how to brainstorm names and pick the perfect one for your new pet.
Brainstorming Name Ideas
Gather together everyone who gets a say in naming your pet rat(s). Everyone should have a piece of paper and make a list of their favorite names. Use our list as a reference or try these prompts:
Think of your favorite names from books, movies, and TV shows you love.
List any famous people you admire. Don't forget people from history.
Brainstorm nature names that inspire you (like Sunflower, Summer, etc.).
Consider your rat's looks. If they're white you may want to name them Sugar. Black and white spotted rats could be called Oreo.
If you've spent time with your pet, think of names that reflect their personality. A playful rat could be named Happy. If your rat likes to run around a lot, call them Speedy.
Selecting the Perfect Name
Once you've brainstormed a list of possible names, it's time to pick the perfect one for your pet. You can do this by process of elimination or circle some of your favorites and them pick from the smaller list.
If you share naming responsibility with other family members, have each person nominate one name. The group can vote and the name with the most votes wins.