Playtime and exercise are an important part of your rabbit's daily schedule. Not only is it good for their physical health, but the stimulation of playing with toys and exploring a space outside their cage helps prevent boredom and curtail destructive tendencies. If you don't have your entire home rabbit proofed, an exercise pen is the perfect alternative to a free roaming bunny. Using a playpen, you can create a dedicated area for bunny playtime while keeping them away from electrical cords, furniture, and other items they shouldn't chew or eat. Check out our recommended playpens and the list of must-have accessories to keep your bunny happy during playtime.
Bunny Rabbit Exercise Pens
You don't need anything special for a rabbit pen. Any type of metal or wire pen works well for bunnies–you can even buy generic pet pens often sold in the dog section of the pet store. You will want to avoid any "playpens" made of fabric or other materials your rabbit can chew through.
If you're planning on using an exercise pen in place of a rabbit cage, the playpen you buy should have at least 8 square feet of space per rabbit (meaning 16 sq ft for 2 rabbits, etc.). If you are purchasing the pen for playtime, you'll want something that provides 20 sq feet or more of space so your rabbit has plenty of room to hop and stretch their legs.
Here are some of our favorites for you to consider:
Marshall Pet Products Small Pet Playpen
Made specifically for small pets like rabbits, chinchillas, and ferrets, this playpen is perfectly sized as a cage alternative for a single rabbit. The panels are extra tall to prevent your bun from hopping out. If you want to use it as an exercise pen, you can use it as a "fence" in the corner of the room to create a safe area for your bunnies to play in (that's how I set it up), which will double the play area to 24 feet.
Marshall also makes playpen mats to help protect your floor and carpet. The mat can also be used as a "lid" or "roof" to protect your rabbit if you decide to take the playpen outside.
Play Area: 12 square feet
Panel Size: 18″ W x 29″ H, 1″ bar spacing
Number of Panels: 11
---
Outdoor Rabbit Exercise Pen
If you like to take your rabbit outside to exercise, this is one of the best pens available. Designed for chickens and other birds, this pen features a roof to keep them safe inside. That makes this pen perfect for bunnies because it protects them from predators like hawks that can swoop down and snatch your pet, even if you're right there. Constructed from the same wire materials used for dog crates, this pen is sturdy and will keep your rabbit from chewing through and escaping. With a height from 28″ to 41″ at the peak there is plenty of room for your rabbit to stand up and stretch. There are also three door options to easily let your rabbit in and out. (My main complaint is that you can't open up the roof panels to reach in and pick-up your rabbit, so consider if that might be an issue for you.)
As a bonus, this pen comes with a waterproof panel that attaches to the roof of the pen, providing a sunshade where your rabbit can lounge if they're getting too hot. The pen is also easy to set up and take down so you don't have to leave it out in your yard when you're not using it. This is great for outside playtime but it is not a good option for a rabbit to live outside (rabbits should be kept indoors).
Play Area: 18 square feet
Dimensions: 87″ long x 41″ wide x 41″ tall
---
Amazon Basics Pet Foldable Rabbit Playpen
If you need a playpen that's super portable, this enclosure from Amazon Basics may work for you. This pen is collapsible and folds up, making it easy to take outside or pack in the car if you travel with your rabbit. This pen works well to use as a temporary cage on the go. It also comes pre-assembled so you can just set it up and use it immediately.
This pen provides over 16 square feet of play space, so it's perfect for a home for two rabbits or an everyday exercise pen. It's designed for dogs, so it's made from sturdy wire that can be used inside or outside. More sizes are available so you can get an even bigger pen to meet your needs.
Play Area: Over 19 square feet
Panel Size: Each panel 24″W x 24″L; Gap 1.5″W x 5.5″L
Number of Panels: 8 panels
---
TMS Large Rabbit Exercise Pens
If you want a lot of hopping space for your bun, this exercise pen has it in spades. Designed for dogs and puppies, this pen is big, providing 66 square feet for your bun to exercise. It's great to set up in a basement, living room, or backyard where you have a lot of space. If you don't need that much space, the panels are removable, so you can make the enclosure smaller. You can also use it to build two pens to keep unbonded bunnies or different pets separate during playtime.
The panels are made with steel wire, making them chew proof. The pen comes with two door panels so you can easily step in and out. The shape is easily adjustable to fit whatever space you want to use for your chinchilla's exercise time.
Play Area: Over 66 square feet
Panel Size: 31″W x 24″H
Number of Panels: 16
---
Must Have Play Time Accessories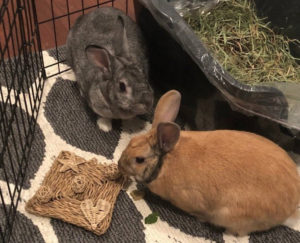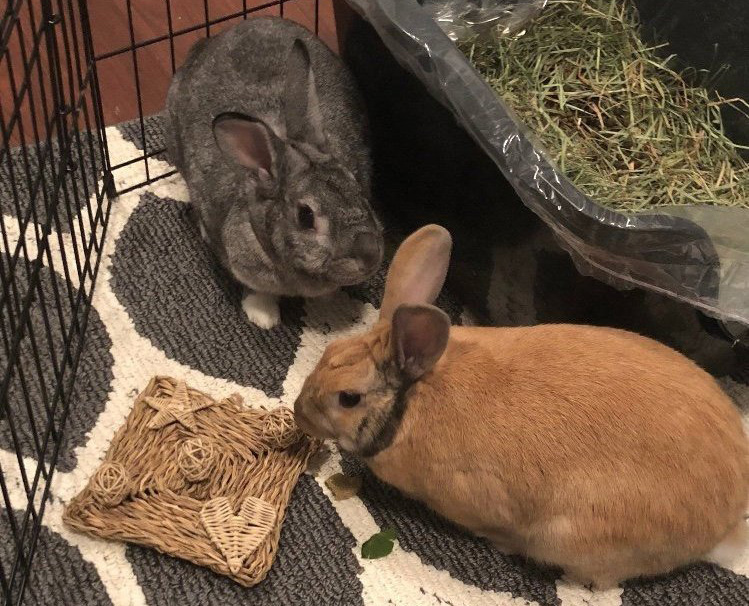 Vine shredding mats pictured above.
All right, now that you have your exercise pen, you want to make sure you provide your rabbit with all the essential supplies during playtime–especially if they won't have direct access to their cage while in the pen.
Toys – Playtime is all about fun, so rabbit safe toys are a definite must-have! Make sure to provide a variety of toys (chew toys, dig boxes, puzzles, exploring toys) and you can even rotate toys to prevent boredom.
Water – Your bun may work up a thirst while exercises, so make sure to have water on hand in a crock or water bottle.
Hay – Rabbits are always eating and should always have delicious timothy hay on hand for when they need a snack. You can put this on the floor or use a hay rack inside the pen.
Litter Box – When nature calls, your rabbit will need somewhere to go. A litter box in the corner of the playpen is important to help reinforce your bunny's litter training and keep messes contained.
Safe Spot to Hide – Since rabbits are prey animals they can easily become startled or scared, even if there's no danger. Make sure they have somewhere they can go to hide. This can be as simple as a cardboard box with a doorway cut in the side.