Whether your rabbit lives in a cage, exercise pen, or is free range in your bunny-proofed home, they're going to need a few hideouts. Because rabbits are prey animals, they have a need to have a safe, covered placed to hide if they're feeling stressed or bothered by the rest of the family. Your bunnies need at a minimum one hideout in their cage/home and one hideout in their play space. If their play space is large, like a whole room or the whole house, you should provide multiple hideout options throughout. Make sure your rabbit(s) don't have to go far if something suddenly scares or startles them.
Some cages have a wooden hutch built-in, which may be enough to meet their hideout needs within their cage. If you have multiple bunnies, it's good to provide a separate hideout for each in their cage/home so they can get some alone time. Luckily there are tons of options for hideouts for your bunny, from free cardboard boxes to more durable wood hideouts. Check out some of our favorite ideas.
Best Rabbit Houses & Hideouts
DIY Cardboard Rabbit House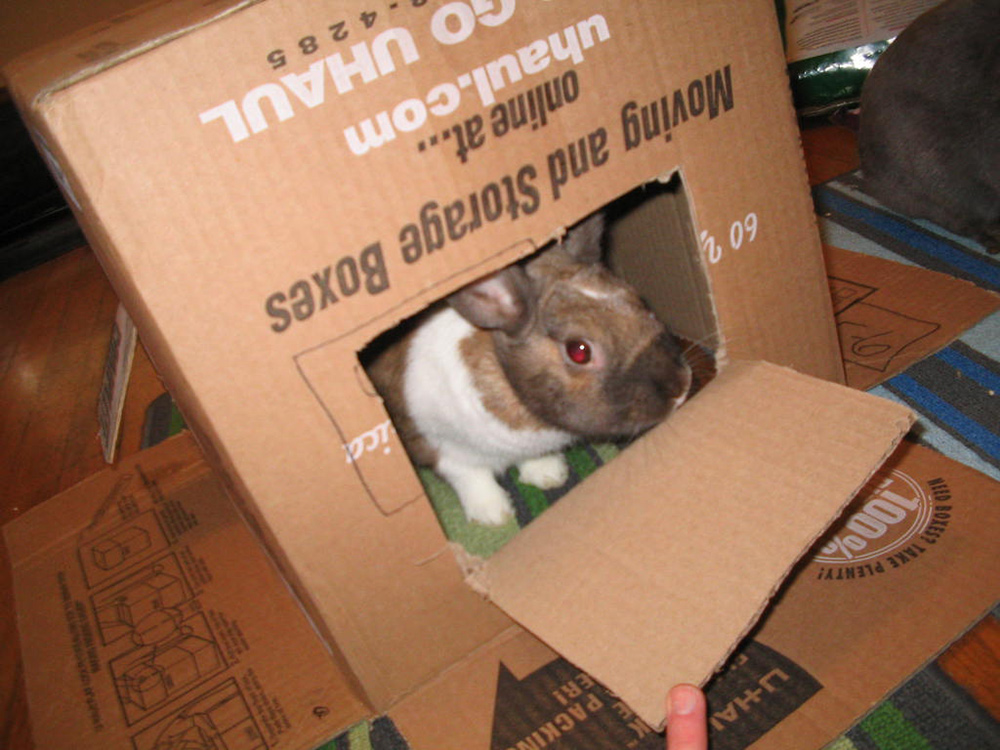 If you order a lot of things online, you inevitably end up with tons of cardboard boxes. Medium and large-sized boxes are perfect for making DIY hideouts for your bunnies. Use scissors or a box cutter to cut doorways and windows into the box. Your rabbit will help pitch in by "customizing" the house through chewing.
Because they're so cheap and easy to make, a cardboard box house is perfect to provide plenty of hideouts during playtime. You can even combine multiple boxes together to create tunnels or elaborate bunny mansions. The only downside to a cardboard house is they are easy to destroy, so make sure to keep some extra boxes around to easily replace them. If you get frustrated with your bunny destroying a cardboard hideout too quickly, check out some more durable wood houses below.
---
Mini Haven Carboard Rabbit House
If you aren't very creative and don't want to make a DIY cardboard rabbit hideout, this two-story rabbit house from BinkyBunny is a great alternative. The precut cardboard pieces easily slide together to form a fun playhouse perfect for one or two rabbits.
---
Seny Cardboard Rabbit House
If you want a cute hideout for your rabbit that's more like a home, this cardboard bunny house is a fun option. Delivered flat and easy to assemble, the cardboard pieces let you construct a cute house with two entry doors and an upper-level balcony. This creates a safe place for your bun to sleep and hangout. The pointed roof and decorating "windows" makes it extra cute!
---
Tokihut Wooden Rabbit House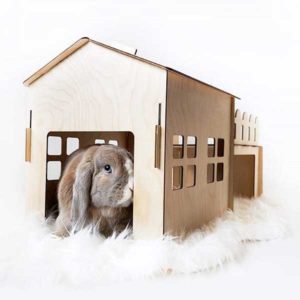 Give your rabbit their own cute little house to hang out in. This easy to assemble house is made in the USA by Tokihut from untreated baltic birch plywood. It ships flat, which lowers the cost, and can be put together without tools. Your bun will enjoy lounging inside or hopping up on the second level porch to survey the land.
---
Wooden Rabbit Castle Hideout
If your rabbits already rule the house, then now they can be the king or queen of their own castle. Small Pet Select makes these awesome rabbit castles, and since they sell each piece separately, you can customize the hideouts for your rabbit's needs and your budget. All pieces are made from untreated pine so it's safe for your bun. Use just the tunnel as a hideout in your rabbit's cage, or build out a sprawling estate in their play area.
---
Make sure your rabbits have plenty of fun stuff to keep them occupied. Check out these rabbit toys and chews and consider making them a DIY cardboard maze.