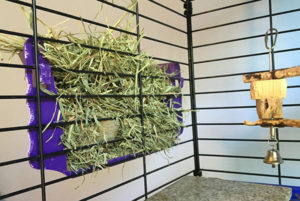 Hay is a crucial part of a chinchilla's diet. It provides essential fiber and gives them a chance to chew and grind down their teeth a little. Because it's so important, your pet chinchilla needs to have unlimited access to clean and fresh hay. Because chinchillas can be a little messy and often have a tendency to pee on hay placed on the floor or a shelf in their cage, using a chinchilla hay feeder is the best way to keep the hay clean and reduce messes.
When shopping for a chinchilla hay rack you should keep a couple of things in mind. First, consider where you want the hay holder to be located in your chinchilla's cage. Will it need to hang from the side of the cage or the ceiling? Next, look at the materials it is made out of. Easily accessible plastic parts should be avoided if your chin is a chewer. You should also consider size (or buying multiple racks) if you have more than one chinchilla.
Here are some of our recommendations for economical and fun chinchilla hay feeders.
Chinchlla Hay Feeder and Holder
Trixie Chinchilla Hay Rack Manger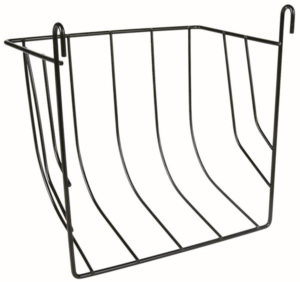 The most basic and economical way to provide your chinchilla with fresh timothy hay is using a wire hay rack like this one from Trixie. It easily hangs on the cage bars and then you can fill it with hay every day. It is made from powder coated metal, making it safe from being destroyed by your chewy chinchilla.
A few customers have complained in reviews that hay falls easily out of this rack and on the floor outside the cage because there is no solid back to the rack. If you're worried about that being an issue you can either put a piece of cardboard or wood behind the rack or consider some of the other hay holder options.
Dimensions: 7.8″ x 7″ x 4.7″
---
---
Lixit Chinchilla Hay Rack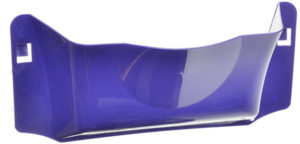 Lixit offers another affordable hay rack that easily attaches to any chinchilla cage. The big pro for this feeder is that since it's made of a solid piece of plastic, it does a better job of holding in hay than the wire version. That helps reduce messes outside of the cage.
The con is that it is made out of plastic. The rack is easy to install and easy to clean, but you should take into consideration how much of a chewer your chinchilla is before you buy this rack. Note: because this hay feeder is made entirely of plastic, it should be hung on the outside of your chinchilla's cage. They will be able to eat the hay through the bars of the cage.
Dimensions: 10.5″ length x 3.5″ width x 4″ depth
---
Hay Food Ball for Chinchillas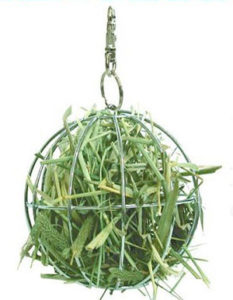 This is a fun and unique way to feed your chinchilla hay. This steel ball can hang from the roof or the side of the cage and is easily filled with hay, treats, and other food. Hanging it from the roof of a cage will keep any hay mess inside the cage and off your floor.
Since it's made from iron wires, this hay ball is easy to clean and disinfect. The ball is also completely chew proof. This is a great option to compliment a regular hay rack and add more feeding options in a large cage. Note: make sure to hang this hay ball in a way that your chinchilla cannot jump or climb on it and do not lay it loose in the cage. Hanging from the ceiling is usually the best option.
Sizes: 8.4 cm or 10.3 cm
---
Chinchilla Cut Out Wood Hay Feeder Box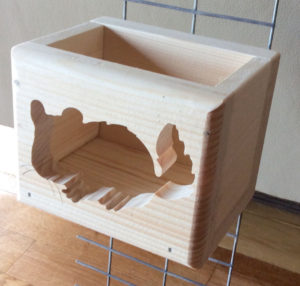 This is a cute and chinchilla-safe hay feeder option. Made from pine wood, this hay box has the silhouette of a chinchilla cut into the side so your pet can easily eat their favorite timothy hay. The top is fully open to allow your chin two ways to access to hay and to make it easy to refill.
Handmade in the USA, the box features hooks on the back to easily secure it to the side of the cage.
Dimensions: 6″ x 4″ x 5″
---
Semi-Octagonal Wood Chinchilla Hay Feeder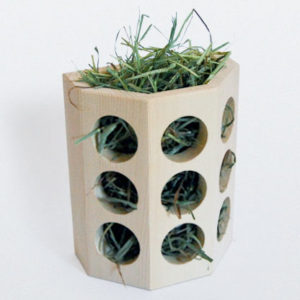 If you're looking for a more modern style wooden hay feeder, this semi-octagonal one may fit your needs. Hand made in the USA from kiln-dried pine, this feeder is chinchilla safe and a great way to offer unlimited hay. The top is open for easy refilling and your chin can easily eat hay out of the holes.
This chinchilla hay feeder comes with bolt, washer, and nut mounting gear. The rack can be mounted to your cage wall vertically or horizontally. This is a great option for a chew friendly hay rack.
Dimensions: 8-3/4″L, 7-1/4″ W, 4-1/4″ D, diameter of holes: 2″
---
To make sure you have all the
cage accessories
you need to keep your chinchilla happily fed, make sure you should check out our articles on
water bottles
and
food dishes
.