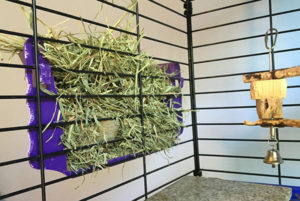 Hay is a crucial part of a chinchilla's diet. It provides essential fiber and gives them a chance to chew and grind down their teeth a little. Because it's so important, your pet chinchilla needs to have unlimited access to clean and fresh hay. Because chinchillas can be a little messy and often have a tendency to pee on hay placed on the floor or a shelf in their cage, using a chinchilla hay feeder is the best way to keep the hay clean and reduce messes.
When shopping for a chinchilla hay rack you should keep a couple of things in mind. First, consider where you want the hay holder to be located in your chinchilla's cage. Will it need to hang from the side of the cage or the ceiling? Next, look at the materials it is made out of. Easily accessible plastic parts should be avoided if your chin is a chewer. You should also consider size (or buying multiple racks) if you have more than one chinchilla.
Here are some of our recommendations for economical and fun chinchilla hay feeders.
Chinchilla Hay Feeders and Holders
Lixit Chinchilla Hay Rack
Lixit offers another affordable hay rack that easily attaches to any chinchilla cage. The big pro for this feeder is that since it's made of a solid piece of plastic, it does a better job of holding in hay than the wire version. That helps reduce messes outside of the cage.
The con is that it is made out of plastic. The rack is easy to install and easy to clean, but you should take into consideration how much of a chewer your chinchilla is before you buy this rack. Note: because this hay feeder is made entirely of plastic, it should be hung on the outside of your chinchilla's cage. They will be able to eat the hay through the bars of the cage.
Dimensions: 10.5″ length x 3.5″ width x 4″ depth
---
Ware Manufacturing Metal Hay Rack
If your chinchilla is an insatiable chewer, then this hay rack is a great choice that they cannot chew! Ware makes this powder coated metal hay rack that easily hangs on the outside of your chinchilla's cage. Just hang this rack on their cage bars and they can pull the hay through to eat. Because this rack is fully metal, your chin won't be able to chew it or destroy it.
I do not recommend hanging it on the inside because your chinchilla could try to hop on top of it and injure themselves.
Dimensions: 9.5″ long, 4″ wide, 7.25″ high
---
Chew Proof Sheet Metal Hay Rack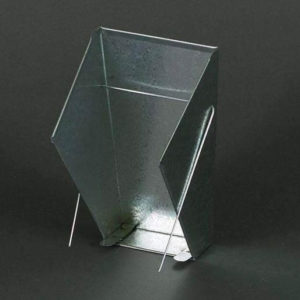 Here's another all metal hayrack perfect for chinchillas. Made by Quality Cage Crafters, this hayrack is made from galvanized steel sheet metal and designed to hang on the outside of your chin's wire cage or pen. The attachment wires bend to form a secure attachment, so it works with a variety of cages with horizontal bars.
The 5″ hayrack is perfect for most chins. You may want the larger size if you have two or three chins in the cage.
Dimensions: 5″ or 9″ wide
---
Wooden Chinchilla Hay Feeder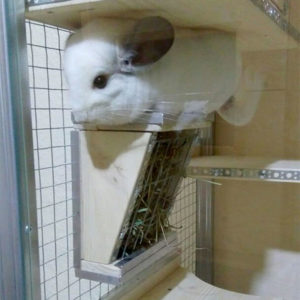 If you want a wood option that is safe for your chinchilla to jump on, check out this awesome hay feeder from Good Wood by Nadezda.
Reinforced with metal hinges and wire, this hay rack has a lid that lifts up to put fresh hay inside. This design helps reduce mess and make sure your chinchilla doesn't get injured while jumping on or around their hay rack.
Dimensions: 6.5″ x 4″ x 7.5″


---
Chinchilla Cut Out Wood Hay Feeder Box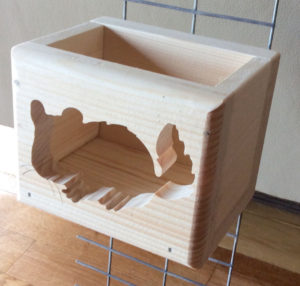 This is a cute and chinchilla-safe hay feeder option. Made from pine wood, this hay box has the silhouette of a chinchilla cut into the side so your pet can easily eat their favorite timothy hay. The top is fully open to allow your chin two ways to access to hay and to make it easy to refill.
Handmade in the USA, the box features hooks on the back to easily secure it to the side of the cage.
Dimensions: 6″ x 4″ x 5″
---
Semi-Octagonal Wood Chinchilla Hay Feeder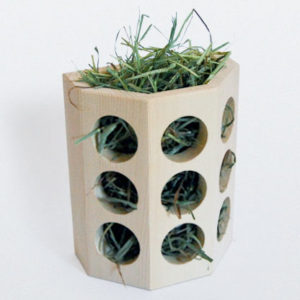 If you're looking for a more modern style wooden hay feeder, this semi-octagonal one may fit your needs. Hand made in the USA from kiln-dried pine, this feeder is chinchilla safe and a great way to offer unlimited hay. The top is open for easy refilling and your chin can easily eat hay out of the holes.
This chinchilla hay feeder comes with bolt, washer, and nut mounting gear. The rack can be mounted to your cage wall vertically or horizontally. This is a great option for a chew friendly hay rack.
Dimensions: 8-3/4″L, 7-1/4″ W, 4-1/4″ D, diameter of holes: 2″
---
Update: Do Not Use the Wire Hay Balls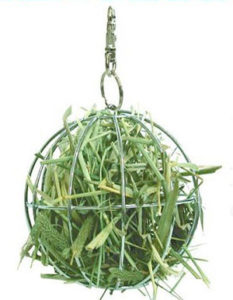 I used to recommend this wire hay ball for chinchillas and other small pets because I've used it for years with rabbits and chinchillas with no problem. I learned that some pet owners have had tragic and even deadly experiences with them.
It's very easy for chinchillas and guinea pigs to get their heads stuck inside these balls, which if it isn't discovered quickly can be deadly. Other owners have shared experiences where their chinchillas have gotten legs and arms stuck in them, which requires amputation.
Do not give your chinchilla any wire hay racks or balls. They can be deadly.
---
To make sure you have all the cage accessories you need to keep your chinchilla happily fed, make sure you should check out our articles on water bottles and food dishes.