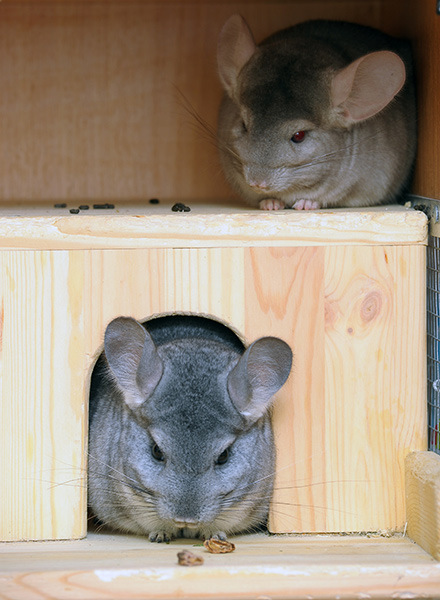 When setting up your chinchilla's cage, there are a few necessary accessories to meet their unique needs. In addition to shelves and perches a chinchilla also needs a safe space where they can go and hide. This is a spot where they will often sleep or seek refuge from stressful noises and situations. Often called a chinchilla house, some owners may call them a hide away, hidey house, or nest box.
The type of chinchilla house you choose will depend on a lot of factors, including how many chinchillas live in the cage, the cage size and layout, and the preference of your pet chinchilla. You want to avoid any hidey houses made from unsafe materials, including plastic or unsafe wood. (Check out this list of chinchilla safe wood.) Most chinchilla houses are made of of kiln-dried pine wood, though you can find some nest boxes that are metal and other hidey houses made from different materials.
If you have multiple chinchillas in a cage, you may want to consider buying a house large enough that they can sleep in it together. You should also make sure there is a 1 hideout for each chinchilla in case they need a little space and want to sleep alone.
If you buy a hideout made of wood it may need to be replaced after a couple years of gnawing, but a good quality wooden chinchilla house should last much longer than that. Some houses are meant to be mounted to the side or ceiling of the cage and others will need to be placed on a solid floor in the cage (usually the bottom floor). We've rounded up some chinchilla safe house options for you to consider for your pet's cage.
Chinchilla House and Nesting Box
Super Pet Wooden Get-Away Chinchilla House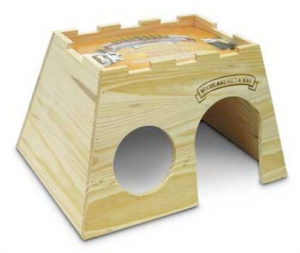 This is a good option for a wooden chinchilla house that can be placed on the cage floor. Made from pine wood, it features a doorway and a window with plenty of options for your chin to customize the look by chewing on the edges.
Comes fully assembled.
Dimensions: 10-1/4-Inch long, 14-inch wide, 8-1/4-inch high
---
Large Pinewood Chinchilla Hideout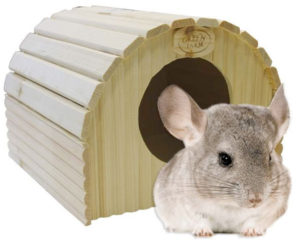 This hide out from Green Farm has a log cabin style to it. Made from kiln dried farm it's safe for your chinchilla, feature an entrance door on the front. It's the perfect size for them to cuddle up inside and sleep.
This chinchilla hideout does not come with mounting hardware and it also does not have a built-in floor. That means it must be used on the floor of your chinchilla's cage.
Dimensions: 11″x10.4″x7.8″
---
Hanging Pine Wood Chinchilla House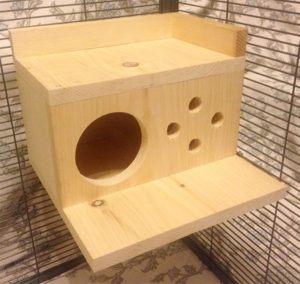 If you're looking for a chinchilla hide away you can mount on the side of your cage, check out this woodden house. This is like a deluxe chinchilla home. It features a round door and some ventilation holes, as well as a balcony ledge and a poop guard on the top.
It comes with all the mounting material you need, but it needs to be mounted in the corner of the cage.
Dimensions: 11″ x 11″ x 8″ high (the house is 11″ long x 7″ wide x 8″ high)
---
Chinchilla Nest Box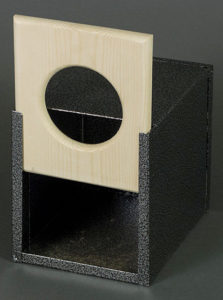 If your chinchilla tears through wood faster than you can replace it or has a bad habit of peeing in thier house, this nest box is a great option. Made from galvanized steel, the box itself is chew proof and easy to clean. The front door is made of solid wood giving them something to chew (and can easily be replaced).
This is also a great option for chinchillas that live in warm climates because the steel will create a cool surface for them to sleep on. Comes with mounting hardware to attach to the cage bars.
Dimensions: 7″w x 9″d x 8″h.
---
Hanging Fleece Chinchilla Cube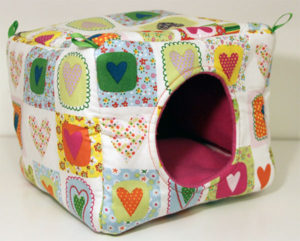 If you're looking for a softer option for your chinchilla's house, this fleece cube is a great option. While chins may shred other fabrics, fleece is safe option in their cage. This reinforced cube hangs from the ceiling of your cage and provides a cozy home for your chinchilla to sleep and nap.
This cube can replace a hammock and still fulfill the needs of a chinchilla hideout since it's completely enclosed.
Dimensions: 8.5in x 7in, opening is 4.5in
Check out more fleece hammocks and hideouts.
---
Kaytee Terracotta Chinchilla Hideout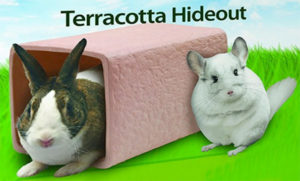 If your chinchilla is an insatiable chewer, this terracotta hideout is a great option. Shaped more like a tube, you chinchilla can either run through it or hide inside to hang out or sleep.
This hideout does not come with mounting hardware, so it will need to go on the floor of your chinchilla's cage. These are great for summer because the terracotta will keep your chin cool. They're also easy to clean.
Dimensions: 9.5″L, 7″W, 7″ H
---
Setting a new cage for your pet chinchilla? Check out all the must have cage accessories and don't forget to outfit your cage with shelves and ledges.