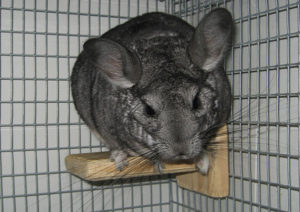 Chinchillas love to hop and climb in tall vertical cages. That creates a necessity for ledges and shelves to create multiple levels and perches within their cage. In fact, ledges and shelves are the most essential cage accessory you can buy for your chin. Chinchillas love to play in their cage and you can use chinchilla ledges and shelves to create a fun and varied environment for them. You do need to keep a few things in mind when furnishing your chin's cage.
Many cages marketed for chinchillas come with plastic or wire shelves. You should try to eliminate all plastic from your pet's cage as chinchillas will chew and potentially eat any plastic, which can cause health problems and intestinal blockage. Any plastic shelves should be removed. Wire shelves can also be dangerous because your pet chinchilla could get their foot caught, which can lead to injury. You can keep wire shelves and ramps in your cage if you cover them with a safe material like fleece, marble, or wood.
If you're going to use wood to make ledges, shelves, or perches, make sure the type you're using is a chinchilla safe wood. Most wooden chinchilla shelves are made from kiln-dried pine. If you're shopping at a pet store or online and it does not say what type of wood a chinchilla shelf is made of do not buy it.
Chinchilla Ledges and Shelves
Here are some recommended ledges and shelves you can buy for your chinchilla's cage. We've also included a list of Etsy shops that sell cage accessories that are safe for chinchillas.
Pine Wood Chinchilla Shelves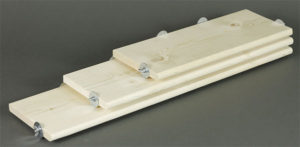 These shelves are meant to stretch the width or depth of your chinchilla's cage, with mounting hardware on three sides for secure installation. They're made from kiln dried pine so they're safe for your pet chinchilla.
Available sizes: Width: 7 1/4″, Length choice of 18″, 24″, 30″, or 36″
---
Small Pine Chinchilla Ledge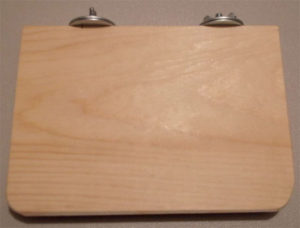 These types of ledges are great because they're big enough for your chinchilla to comfortably sleep or rest on. They're also small enough that you can place them almost anywhere in the cage to create unique and fun layouts.
All hardware included so they are ready to install as soon as you receive them.
---
Corner Ledge with Poop Guard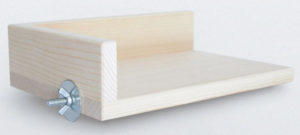 A few corner shelves are essential for the layout of your chinchilla's cage. These corner ledges are large (7″ x 10″) and feature a built in poop guard to help keep mess inside the cage.
These are great for your chin to take a little nap in the corner or to provide a secret lookout.
---
Octagonal Loft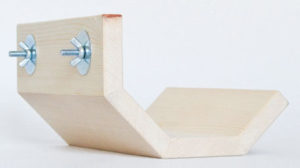 This is one of the many unique chinchilla ledges offered by Whisking Woodworks. This octagonal loft not only looks cool, but it's made of chinchilla safe pine wood and a great ledge option for their cage.
This can be installed anywhere in the cage to provide a nap spot, lookout, or a fun new ledge to jump off of.
---
5 Piece Pine Chinchilla Ledge Set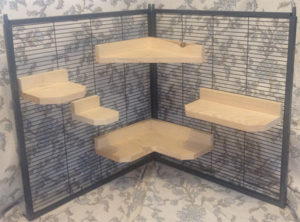 If you have a new cage you're looking to deck out or you need to replace a lot of plastic or wood shelves in your current set up, this is a great deal to consider. This ledge set comes with 5 different ledges, all with built in poop guards to help keep mess inside the cage. All ledges are made from kiln dried pine.
This pack includes an L corner ledge, regular corner ledge, small ledge, medium ledge, and large ledge.
---
Recommended Etsy Shops for Ledges and Shelves
Quality Cage Crafters – Located in the USA, they not only sell chinchilla cages and accessories, but also multiple sizes of shelves and chinchilla ledges made from kiln dried pine, complete with hardware.
Fluffy Feet Designs – Located in Canada, Kristen has a huge selection of ledges, shelves, houses, and other wood "furniture" for your chinchilla's cage.
Whisking Woodworks – Located in the USA, they make chinchilla shelves and ledges that are safe and gorgeous. Their octagonal tunnels and lofts add some beauty you don't find with other utilitarian chinchilla accessories from kiln-dried pine.
Spurlock Chinchillas – Located in the USA, they make basic and affordable chinchilla ledges.
Chinovations – A USA based woodworker makes ledges and other chinchilla accessories designed with his own five chinchillas in mind. Check out his sets of ledges and hideouts for your new chinchilla cage setup.
Happy Wings – Based in the USA, they make products for birds, but many of their perches and ledges are made of chinchilla safe woods and are a great option for your chinchilla's cage (don't forget to double-check the safe wood list before you order!).
---
Chinchilla Perches
There aren't many perches made specifically for chinchillas, but sometimes if you poke around in the bird section of the pet store you'll find some made of safe materials that can add a little variety to your chin's cage. Perches are great to add an extra step in large spaces between shelves and ledges.
Poplar Wood Chinchilla Perches
Made from kiln dried poplar wood, these chinchilla perches come in a set of four complete with hardware to attach to the side of your cage. These are perfect for creating steps or perches anywhere in your cage.
Dimensions: 6″ long, 1″ diameter
---
Kaytee Lava Ledge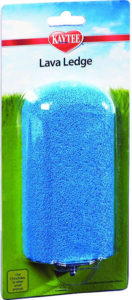 This lava ledge from Kaytee is a big hit in our house–just don't expect it to be around forever! Because it's make of soft pumace stone, your chinchilla will chew through it and eventually it will need to be replaced. But they're sure to love it.
---
Natural Grapevine Wood Perch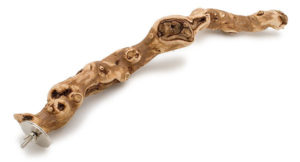 This perch is made for birds, but since it's made from natural, pesticide free grapevine, it's safe for chinchillas too. This makes a great perch that adds a little variety to your chinchilla's cage and provides something they can chew on.
---
Chinchilla Bridges, Stairs and Ramps
Here are some fun, chinchilla safe accessories for your chinchilla cage to help them move between levels or across ledges.
Wooden Chinchilla Stairs
A fun alternative to ramps, these chinchilla stairs are handmade by Chinovations from kiln-dried pine wood. You can choose from three or four-step versions and pick whether you want the mounting hardware attached so it has a left or right climb.
Dimensions: 3 steps16″ wide and 12″ rise; 4 steps 21″ wide and 16″ rise.
---
Wooden Chinchilla Ramp
This wooden ramp is designed specifically for chinchillas, made from safe kiln-dried pine. It comes with two bolts to easily mount to the side of your cage. This ramp is a great way to create a path between levels in your chin's cage.
Dimensions: 16″ long, 3.75″ wide, and 3/4″ thick.
---
Wood Chinchilla Ledge and Ramp
This piece is so cool because it works as a bridge or a ramp. This chinchilla ledge comes with an adjustable "ramp" that can be mounted in a variety of configurations on the side of your cage. Comes with all necessary hardware.
Dimensions: 20.5″ long, 5″ wide
---
Now that your cage is outfitted with some safe chinchilla ledges, you need to outfit the rest of your cage to meet your pet's needs. To make sure you have all the cage accessories you need to keep your chinchilla happily fed, make sure you should check out our articles on water bottles, hay racks, and food dishes.