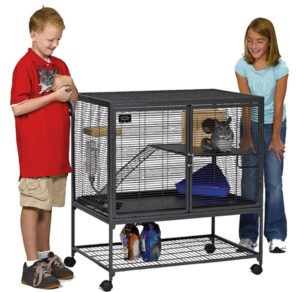 The first, and most important, purchase you'll make when you add a pet chinchilla to your family is buying a chinchilla cage. Their cage will be your chinchilla's home and where they spend the majority of their time. Because of that, you want to make sure your chinchilla's cage is safe, easy to clean, and sturdy. In this article, we're going to break down all the things you should look for when buying a new chinchilla cage and give recommendations for the best chinchilla cage.
When shopping for cages for chinchillas, as with many chinchilla related supplies, some of the best options are cages that aren't marketed for chinchillas. In fact, a lot of the cages sold in pet stores for chinchillas are too small or made out of materials that are not safe for chinchillas. While the cage you ultimately buy will be determined by your budget, space available, and personal preferences, as long as you follow our recommended guidelines you'll end up with a safe cage your chinchilla will love.
Selecting a Safe Chinchilla Cage
Many people want to save money when they get a new pet and they just look for cheap chinchilla cages. The problem with these cages is often they are made from cheap materials, like plastic, which are not good for chinchillas. Chinchillas are voracious chewers and will easily chew through plastic shelves, pans, or bars and can easily escape these cages. In addition to destroying the cage, eating the plastic will also make your pet sick, so there shouldn't be any plastic anywhere in the cage. These cheap cages are often small, way too small for a pet chinchilla who needs room to jump and climb.
Any cage you choose for a chinchilla enclosure should be tall (as large as you can afford and fit in your home). You should also look for all metal chinchilla cages. Your chinchilla will not be able to chew through the metal and that also makes it easier to clean the cage.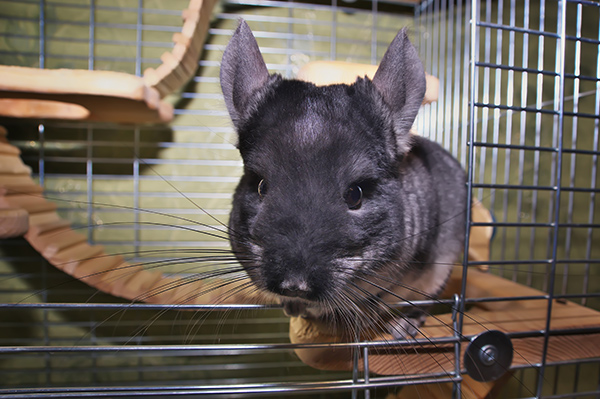 How Big Should a Chinchilla Cage Be?
Chinchilla cage size is extremely important to consider. You should provide the biggest cage size you can afford and have enough space for in your home. At a bare minimum, for a single chinchilla, their cage should be at least 30″ x 18″ x 48″ in size. If you do buy a cage on the smaller size like that, your chinchilla will need plenty of exercise time every day on a chinchilla proof room or an exercise pen.
If you're going to house more than one chinchilla in your cage, there should be at least two cubic feet of space for each chinchilla in the cage. An ideal chinchilla cage size would be somewhere around the size of 36″ x 30″ x 60″. With a small cage, lack of stimulation (toys, ledges, etc.), and little exercise, chinchillas can easily become depressed or anxious, which can cause other health issues and illness.
Safe Materials for a Chinchilla Cage
As we have said many times, plastic is not good for chinchillas. You should not buy a cage where the walls, ceiling, or floor are made of plastic. If it comes with shelves or other accessories that are made of plastic, you can just remove those and replace them with chinchilla safe accessories.
The walls of the cage should be made of metal wire and no bigger than 1″ spacing. The floor of the cage should either be made of solid metal (which is the safest option but the hardest to keep clean) or made of wire mesh. The mesh must have holes less than 1/2″ by 1/2″ with 1/4″ x 1/4″ being the most ideal.
Chinchilla Cage Recommendations
Chinchilla Mansion by Quality Cage Crafters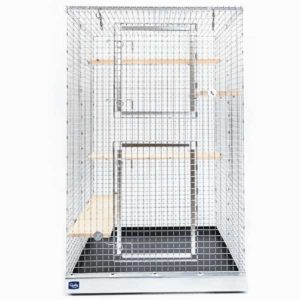 Mansion is a fantastic name for this deluxe chinchilla cage. Made by Quality Cage Crafters, a company that specializes in chinchilla cages and accessories. This two door cage has plenty of room for one lucky chinchilla or a bonded pair. The top also opens for easy access to clean or rearrange your cage accessories. The floor features a solid metal slide out tray for easy cleaning. It also means your chinchilla's precious feet won't be irritated by the wire floor.
A regular cage order also comes with four pine wood shelves (two 24″ and two 30″) which are safe for your chinchilla and great to get your cage started. All hardware is included, as well as instructions to assemble the whole cage. They also sell bundles of cage accessories, a cage stand, and a chinchilla wheel if you're looking for a one stop shop for a new chinchilla cage setup.
Colors: Metal, Blue
Dimensions: 30″w x 24″d x choice of 24″, 36″, or 48″ height; 1″ x 1″ wire
---
Ferret Nation Chinchilla Cage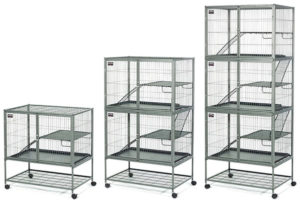 This is a favorite option among chinchilla owners and breeders, many say it's the best chinchilla cage. Ferret Nation cages are very versatile, with multiple sizes available and the ability to partition the cages if your chins need separate spaces. You can also add on levels later if your chinchilla family grows.
The smallest "single" size is good for one chinchilla, though a two level would be best for one or two chinchillas and you can upgrade and add a third level for 3 chinchillas. Three levels are excellent if you're looking for a large chinchilla cage (just buy the add on level to create it).
The double doors on each level make cage cleaning and rearranging very easy. If you get a multi-level cage it comes with a full-width pan to prevent dangerous falls (the pan is plastic but can be covered with fleece or replaced with a metal pan). The cage itself is all metal and chew proof.
The cage comes with a stand with a storage shelf underneath to keep all your chinchilla supplies. The wire ramps that come with this cage should either be removed or covered with fleece to prevent injury to your chinchilla.
Dimensions:
Single Level: 36″L x 25″W x 38 1/2″H
Double Level: 36″L x 25″W x 63 1/4″H
Don't forget to buy fleece liners to go with your new cage.
---
Prevue Hendry Feisty Ferret Cage for Chinchillas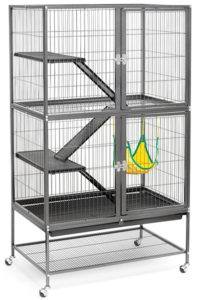 If you're looking for a cage that is a little bit smaller but still offers a lot of space, this "Feisty Ferret" home is a good option for 1 or 2 chinchillas. The design is very similar to the Ferret Nation cage. Each level features two cage-width doors for easy access to clean and give your chinchilla chin rubs.
The cage comes with plastic ramps and shelves which can be removed or replaced. The mid-height shelf and bottom floor are both wire. They can also be removed or covered with fleece to make them safe for your chinchilla. The cage also comes with a stand with extra storage space and caster wheels to easily move while cleaning. This metal chinchilla cage comes in a black hammertone finish that looks good with any decor.
This cage is used by ferret, chinchilla, and rat owners. Check out the Amazon reviews to see some photos of how owners have set up their cages and swapped out the plastic for wooden shelves. They make some good inspiration if you need chinchilla cage ideas (we also have some ideas later in this article).
Generally, the Prevue cage is less expensive than the Ferret Nation Cage and the Critter Nation (featured below) and it a good budget option if you're looking for cheap chinchilla cages.
Dimensions: 31-Inch long, 20-inch wide, 41-1/2-inch high with 7/8-inch wire spacing
---
MidWest Critter Nation Cage for Chinchillas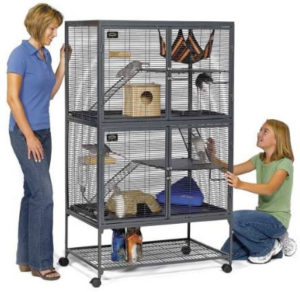 If you are looking for a large chinchilla cage, Critter Nation is a great option. Similar to the Ferret Nation cage, it comes in a single story size (for one chinchilla), a two story size (for one to two chinchillas), and you can buy an add on to make a three story cage (for 1 – 3 chinchillas). This is also a good solution if you have multiple chinchillas that need their one cage space because the different levels can serve as their own cage space.
This cage comes with a solid bottom tray and mid-height shelf, but they are made of plastic. The ramps are wire ramps. All of these will need to either be covered with fleece or remove and replaced with chinchilla safe materials. Each level has cage doors that open for the entire width.
Some reviewers have complained about the tray in the bottom being too shallow with their pets kicking litter and poo out of the cage. If your chinchilla is litterbox trained this should not be a problem. You can also check out some modifications owners have made to build or add their own guards in the photos in the review section.
Dimensions:
Single Story: 36″L x 24″W x 39″H
Two Story: 36 x 24 x 63 inches
Don't forget to buy fleece liners to go with your new cage.
---
Prevue Hendryx Corner Chinchilla Cage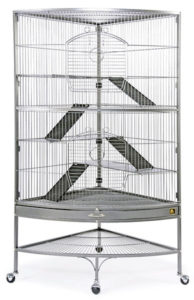 If space is at a premium in your home, this is the best chinchilla cage to minimize your cage footprint and maximize space for your chinchilla. This corner cage is a good size for one or two chinchillas and still features the stand with extra storage and caster wheels to easiy move the cage.
The design on this one is a bit different because it's meant to fit in a corner. It has two large doors for easy access to your chinchilla and to clean the cage. It does not have a mid-height floor so you'll need to come up with some creative placement of shelves and other accessories. It comes with four ramps and shelves that are made of plastic, which should be covered or replaced. The bottom pan and the wire grate floor are both removable so you can easily replace them.
Dimensions: 39-Inch long, 27-inch wide, 63-inch high with 7/8-inch wire spacing
---
Choosing a Location for Your Chinchilla Cage
Once you have selected the perfect cage, you'll need to find a place in your home for your chinchilla. Chinchillas need to be kept cool, so in addition to buying a cage with good air ventilation, you'll want to find a room with a temperature between 60 and 75 degrees F. They must be kept in a room with air conditioning but the cage should not be directly under an air vent or a drafty location. (Learn more about keeping your chinchilla cool.)
You should select a quiet room because your chinchilla will sleep during the day. You can place a sheet or blanket over the cage to give them a sense of security. To help them feel safe so you're not towering over them, your chinchilla should be at eye level. If you have a shorter cage you can buy a stand for it or place it on top of a table. Make sure you clear the location around the cage of wires, fabrics, or other items your chinchilla may be able to pull into the cage and chew on.
Cage Accessories & Chinchilla Supplies List
Now that you've selected the best chinchilla cage for your pet, it's time to deck it out. I bet you're asking yourself, What do you need for a chinchilla? Learn about all the cage accessories you'll need, or use this handy checklist to get all the supplies you need for a pet chinchilla (click the name to get our recommendations):
Cage Accessories
Food
Fun and Play
Chinchilla Care
Once you get your cage setup and buy all your supplies, learn how to clean a chinchilla cage.